In the last couple of decades replacement windows in Chicago, IL have come a long way, especially vinyl windows. In early development these products were known to warp, yellow, and become brittle from the exposure to harsh elements. Fortunately, today manufacturers use new techniques and technologies to make polyvinyl chloride (PVC) for window frames. The modern material is stronger and more durable. Here are a few reasons why vinyl replacement windows are so popular: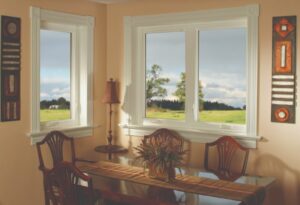 Affordable
The material is easily manufactured and the products are lighter and more forgiving to install. Because of this vinyl is often the least expensive option of all window materials. This is a huge deciding factor for many homeowners, and one of the leading reasons why vinyl replacement windows are some of the most popular choices on the market today.
Minimal Maintenance
Wood windows usually require the most maintenance as they must be sanded and refinished every few years. Vinyl, on the other hand, takes very little effort. For regular cleaning, all you need is mild detergent, water, and a soft cloth. Wipe the frames clean and they will look new for years to come. No sanding or painting required. And to ensure smooth operation all you have to do is clear the track with a vacuum and soft brush, and apply a silicone lubricant every few weeks.
Weather Resistant
These windows are both heat and moisture resistant. They will not warp, rot, rust, or corrode from exposure to the elements. And the finish will not bubble, fade, yellow, or peel over time. So bring on the rain and sun. Vinyl windows can take it.
Durable
Because these windows are weather resistant they last longer. Special additives in the PVC improve strength, insulation, and durability. For the most part, you can expect properly installed vinyl windows to last for 20 years or more. For the price, this makes them a great value.
Efficient
Plastic does not readily transfer heat. And the welded corners on high-quality vinyl windows prevent air leaks. This type of high thermal resistance keeps your home cool in the summer and warm in the winter without overworking the HVAC system. This is why vinyl windows are a great option if you are looking for energy savings.
Variety
Many homeowners think vinyl windows mean limited style options. But the truth is you can get vinyl windows in almost any shape, size, and style. There are also several color options to choose from. You are sure to find a product that fits the aesthetic of your home, both inside and out.
Have a few more questions about vinyl replacement windows in Chicago, IL? Feel free to reach out to Scientific Home Services Ltd. Our team of experts can answer any questions you have about our products and help you choose the best windows and materials for your home. We also offer free, no-pressure quotes. Contact us at (847) 752-0370 or stop by 5639 W. Howard St. Niles, IL 60714.