Should homeowners repair or replace old windows? Most people struggle with this decision because getting replacement windows in Chicago, IL is such a big investment. They think repairs will save them money. What they do not consider are the benefits and savings new windows will provide. So here are the three main reasons why replacement windows may be a better choice.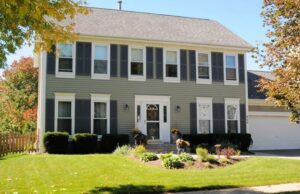 1. Energy Efficiency
Old windows that are damaged, broken or worn down likely have gaps in the assembly. This equates to both air and moisture leaks. And if heat and air can readily pass through the windows it takes more to keep the home comfortable. The HVAC system works overtime and drives up the cost on energy bills. This is one of the leading reasons why homeowners finally consent to invest in replacement windows.
New windows have tighter seals and better technologies that improve efficiency. And while replacement windows are a big investment, from year to year the improved efficiency will save money. When choosing energy efficient windows homeowners need to decide on the right frame, window style, number of panes, and the inert gas fills. There are also different types of glass coatings they can select to block radiant heat and keep the home more comfortable.
2. Security and Safety
Old windows can be a safety hazard in the home. As they age the hinges, locks, and latches on windows deteriorate and do not function as they should. Not only does this make old windows frustrating to operate, but also can be hazardous in case of an emergency. They are also easier for burglars and intruders to break and gain access to the home.
Fortunately, manufacturers have worked hard to make modern windows stronger, more durable, and more secure. It starts with beefed up frames meant to withstand heavy impacts. It also means locks and latches made of stronger materials and placed where intruders cannot gain access. Manufacturers use safety glass as an added feature so windows do not break into large and dangerous shards. All of these features add up to better safety and security in the home.
3. Home Value
Old windows can make a home look dilapidated and outdated, driving down the value. This is often why if windows are more than 20 years old homeowners should consider window replacement instead of window repair.
New windows help improve curb appeal and boost the value of a home. The can even change the entire aesthetic depending on the structure homeowners have to work with. This could make a world of difference on the return if homeowners plan to sell an older home in the next couple of years.
If you are ready to start reaping the benefits of replacement windows in Chicago, IL then contact Scientific Home Services Ltd. Our mission is to provide our clients with the best possible products and service. Call us today at (847) 752-0370 for a free, no-pressure quote. Or stop by 5639 W. Howard St. Niles, IL 60714 to talk with one of our experts today.